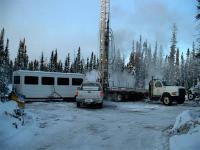 The Board of Directors of Sunshine Oilsands Ltd. has appointed Mr. Tingan Liu (a director of the Corporation since February 1, 2011 and the deputy chairman and president of China Life Insurance (Overseas) Company Limited) to the position of Non-Executive Chairman of the Corporation, effective immediately. Mr. Michael Hibberd, the previous Executive Chairman, will remain as the senior executive director of Sunshine and has been appointed the Executive Vice-Chairman of the Board of Directors (the "Board").
Mr. Hibberd will continue to perform the functions of the CEO of the Corporation. Mr. Hibberd has confirmed that he has no disagreement with the Board and there are no matters relating to his new appointment that need to be brought to the attention of the shareholders of the Corporation.
The change in the Chairman position was based on the unanimous recommendation of the Corporate Governance Committee of the Corporation (comprised of Messrs. Turnbull, Hibberd, Li and Liu) to provide greater independence to the Chairman role and to separate the executive and Chairman functions, in keeping with good corporate governance practices.