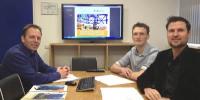 Suretank has entered into a formal agreement with long-term Dutch partner Stainless Equipment Works (SEW), to launch Suretank Netherlands.
Suretank Netherlands will act as an agent for Suretank providing valuable engineering and sales support to further strengthen Suretank's market position in the Dutch offshore industry.
The relationship between SEW and Suretank began in 2000 when SEW started designing and manufacturing UN portable tanks, transport containers and customised frames for the offshore industry. Since then the two companies have worked in partnership on various new design projects, including the development of a new elliptical UN portable tank.