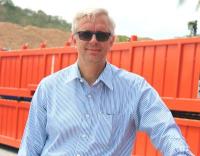 Suretank has appointed Peter Weiss as Regional Director for Asia Pacific.
In this newly created position Peter will be responsible for the Suretank manufacturing facilities in China and Thailand that manufacture offshore tanks and cargo carrying units. With over 20 years engineering experience working in Asia, he will take on the operational and strategic responsibility for the development and growth of both businesses.
Commenting on his new appointment Peter said: "I'm looking forward to playing a pivotal role in the future growth of the company by ensuring that we provide the best quality products and services at the most competitive price. My focus will be on developing a culture of continuous improvement across the teams in China and Thailand through the implementation of our lean manufacturing initiative.
"Although the current market situation is challenging, I am very impressed with the vigour and commitment the teams in China and Thailand have demonstrated."