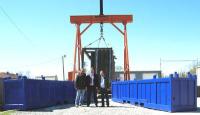 Suretank, the provider of engineered solutions to the offshore oil and gas industry, has entered into a partnership agreement with Louisiana based manufacturer Amgulf Fabrication Inc as part of Suretank's long term strategy to build local in markets worldwide.
Established last year by Lawrence Detiveaux and Jason Underwood, Amgulf Fabrication is a start up business based on the business principles of Suretank's founder and chairman Patrick Joy, with Suretank having 25 percent ownership.
Through the new facility in Houma, Louisiana, Suretank will be offering the full range of DNV 2.7-1 certified equipment including offshore containers, skids, baskets and skips, with tanks to be added to the portfolio in the future.