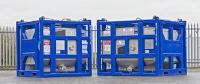 Suretank has developed a new range of low profile tanks for the transport of oilfield chemicals and fuels.
The new multi-cargo Suretank Fluid: Low Profile Tank range comes in response to recent industry trends for increased safety awareness when working at heights and following close discussions with key customers.
The new design optimises tank capacity within the offshore frame, whilst keeping the height below the international threshold for working at heights of 1.8 metres.
The design includes several new features including a unique top and bottom design which provides full drainage, a fully removable vessel for maintenance and a new stacking arrangement which is compliant with the latest industry requirements (including DNV 2.7-1, 2013).
Donal Duggan, Group R&D Manager at Suretank, explained: "We've spent time researching similar products in the marketplace and have worked closely with our customers to understand the design features that are important to them in this type of product."