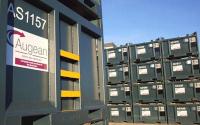 Suretank has completed delivery of a range of custom made mud cutting skips to Augean North Sea Services (ANSS) in Aberdeen.
The mud cutting skips were tailor designed to meet the strict operational requirements set out by ANSS, and this recent batch of 250 units takes Augean's fleet size up to 750 units in total.
Mark Pett-Ridge, Sales Manager for Suretank, commenting on the project said: "Augean are a fast growing operation in Aberdeen. We've been delighted to be able to work closely with all their staff to produce an engineered solution that meets the requirements of the waste treatment services they offer to the rigs and platforms in the North Sea.
"Taking into consideration the requirements for both onshore and offshore operations we match these to meet DNV 2.7-1 certification. This recent delivery demonstrates our commitment to engineering great products that meet operational, logistic and health and safety requirements, Mark continued."
Derek Richardson, Technical Sales Manager for Augean North Sea Services, said: "We selected Suretank as they have a good reputation within the industry. They supply a quality service at good value. The process to design what we wanted was helped greatly by the team at Suretank and they added value with their input and guidance."