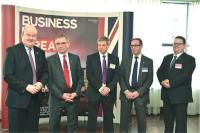 Suretank joined the largest ever UKTI trade mission to Romania and Bulgaria to promote their range of market leading offshore tanks and offshore containers for the oil and gas industry.
Accompanying the Rt. Hon Brian Wilson, British Business Ambassador on the 'GREAT Mega Mission', Suretank was involved in a range of formal meetings and round tables over a four-day period.
The delegation was received by Romanian Prime Minister Mr Victor Ponta and the Bulgarian President Mr Rosen Plevneliev in Bucharest.
Commenting on the trip, Suretank Sales Manager Mark Pett-Ridge said; "It was a great opportunity to share Suretank's expertise in the offshore oil and gas sector with local companies from Romania and Bulgaria. Our existing supply of cargo carrying units and offshore tanks to the region has generated a good level of interest and acts as a great platform for further development.