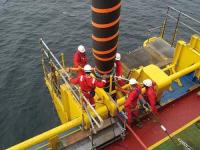 The price of products and services trails other significant factors, such as value, lifecycle, and durability as a purchase priority, according to a recent independent survey of oil and gas professionals making procurement decisions, conducted on behalf of Trelleborg's oil and marine operation. Despite challenging times for the industry, when asked to rank different factors affecting their decision to purchase an oil hose, respondents listed "durability and lifecycle" as "vital" over 80% of the time. The next most "vital" factors were "aftersales support and service", and "ease of installation" at 32% and 28% respectively.
Price, on the other hand, was listed as "vital" only 19% of the time. This reflects a growing understanding in the industry that cost-cutting measures are increasingly being considered as a "new normal". Investing in lifecycle measures at the beginning of a project is acknowledged as having collective benefits that – while reducing on-going operational expenditure – include additional advantages, such as continual monitoring, maintenance and customer-focused solutions.
"This anonymous and independent survey conducted on behalf of Trelleborg highlights a significant shift in attitudes in an industry that is often resistant to change," says Vincent Lagarrigue, Sales and Marketing Manager for Trelleborg's oil and marine hoses. "Companies across the board would probably agree that convincing customers of the value of investing in a long-term solution can be tough, particularly in challenging market conditions. But as this survey shows, people value not just quality, but an on-going, consultative partnership with a supplier that will help them achieve the optimum solution. This is something that we strongly advocate at Trelleborg."
Individual responses in the survey also revealed the value that customers place on fast, responsive service, and the ability to create custom solutions. These factors can often be critical in helping customers choose between similar options in an industry where shifting suppliers is seen as a significant pain point.
"Trelleborg has always maintained that a collaborative approach with customers is the best way to arrive at quality, efficient solutions. Our engineers become involved at the earliest stage of any project to conduct the advanced testing and modelling needed to predict the exact conditions in which a product will function. Through our product range, we are able to offer a range of customised solutions for all environments, such as the TRELLINE nippleless technology for extreme environments, or the more ubiquitous SEALINE nipple hose design."
Trelleborg offers the widest range of multi-faceted crude oil and refined product handling solutions in the market today, boasting both nipple and nippleless hoses designed for terminal and offshore transfer. They are applicable for use in existing submarine and floating configurations, reeling applications, and are suitable for use in even the harshest of environments. The culmination of 40 years' research and development at Trelleborg's testing centre in Clermont-Ferrand, France, the entire range is qualified in accordance with GMPHOM 2009 (OCIMF Guideline), while the TRELLINE range is certified according to API Spec 17K standard.