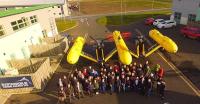 Sustainable Marine Energy (SME) has arranged a GBP 4.5 million funding package to commence the deployment of an array of its PLAT-O tidal energy systems at the European Marine Energy Centre (EMEC) in Orkney.
SME has conducted extensive testing of its first PLAT-O prototype in the Solent, off the Isle of Wight, during 2014 and 2015. SME have now moved their operational base to Orkney and will be grid connecting their first system at EMEC over the coming months. This deployment will then be followed by a larger, 240kW, platform with SCHOTTEL HYDRO Instream Turbines (SIT 250), the production of which will commence this summer, also in Scotland.
SME's existing investors have been joined by the German Tidal Turbine Manufacturer SCHOTTEL HYDRO with Scottish Enterprise increasing its investment to provide the funding required to take the development of PLAT-O through the next phase, to prove the commercial viability for community scale arrays.
"We are really excited to be moving forward with our community array at EMEC," says Jason Hayman, Managing Director of SME. "This will show that second generation tidal energy technology really is commercially viable. It is fantastic that SCHOTTEL HYDRO is supporting us at this stage, and also that they have the confidence in the capability and potential of Scottish supply chain to deliver on this project. This is a long term commitment for SME and SCHOTTEL HYDRO and we are rapidly expanding our operations in Orkney, whilst benefitting from the experience of local contractors to drive down the costs of marine operations."
In addition to the development of PLAT-O, SME is also pioneering the development of drilled rock anchors suitable for tidal sites, the installation of which has been proven at EMEC in the last quarter. The SME rock anchor system is the first of its kind in the world to be deployed at an energetic tidal site, and will be of benefit to the entire marine energy sector, and wider industry as a whole.
Niels A. Lange, Managing Director of SCHOTTEL HYDRO comments, "We at SCHOTTEL HYDRO are convinced that commercial tidal energy installations will be based upon cost-effective floating platform solutions like PLAT-O, carrying multiple tidal turbines. We are pleased to support SME on their way to demonstrate the benefits of PLAT-O plus our SIT 250 technology. This project with complementary technologies indicates the perspectives of productive interaction within the entire industry."
"EMEC is very much looking forward to seeing SME get into the water at EMEC's tidal site. It is fantastic to see the support of Scottish Enterprise, showing how investments can be made to bring about renewables projects like this at an important stage in their development," says Neil Kermode, Managing Director of EMEC. "We expect this first phase of grid-connected demonstration in Orkney will generate a great deal more learning to add to previous real-sea experience at the Isle of Wight, and provide a solid base on which to build out with SCHOTTEL HYDRO. The Orkney supply chain is poised and ready to help make that a success."