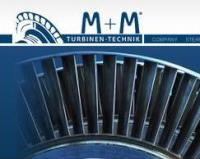 Two new steam turbine-generator sets are currently being built by M+M Turbinen- Technik GmbH for new CHP Plants in Sweden.
Last September, Nybro Värmecentral AB, the primary energy supplier for the southern Swedish city of Nybro, placed an order for a two-casing steam turbine from M+M.
Only two months later, M+M was awarded a contract for a steam turbine generator set by Värmeverk, the energy supplier to the city of Skövde.
The newly planned waste incineration plant for the city Nybro presents complex requirements to the steam turbine design. The high pressure turbine casing includes a controlled steam extraction to meet the fluctuating process steam demands of an industrial client located adjacent to the plant: a manufacturer of hardwood floors.