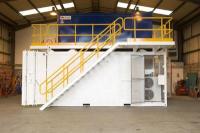 Swire Oilfield Services has strengthened its executive team with the appointment of Roy Shearer as Chief Financial Officer (CFO).
Mr Shearer will be responsible for the finance function across the group, including accounting and reporting, planning, tax and treasury in addition to driving improvements in financial performance and control.
A chartered accountant from the Institute of Chartered Accountants Scotland, Mr Shearer joins the company with over 15 years' experience in various senior financial roles in the oil and gas industry in the UK, Continental Europe and the Middle East. He also has a Masters in Accounting and Economics from the University of Aberdeen.
Mr Shearer will be based at the company's Headquarters in Aberdeen, and will become a Director of Swire Oilfield Services Holdings Ltd.