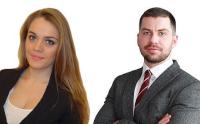 Swire Oilfield Services has announced two new business development appointments to drive the global adoption of the company's track and trace solution, OverVu®.
Athina Skoupnevskagia and Daniel Bleymann have both joined the company as Business Development Managers, and complement an experienced team of in-house GPS and RFID experts, engineers and project managers who were brought together to develop and ensure the continuous evolution of the solution.
Launched in 2014 to tackle the multi-billion dollar problem of lost, misplaced and delayed equipment in the oil and gas industry, OverVu enables customers to track their materials throughout the supply chain. The cloud-based software solution has since evolved to provide additional layers of intelligence such as the certification status and ability to track spend of project critical equipment in real time.
The business development roles have been created to meet high market demand in the current climate for the solution as companies strive to enhance supply chain efficiency, improve productivity and reduce operational costs.
Ms Skoupnevskagia joins the company from Schlumberger with a proven track record of sales experience in the oil and gas industry and will be responsible for driving the commercial activity of the product line from the company's bases across Asia Pacific including Australia, South East Asia, India and the Middle East.
With over eight years business development experience in the oil and gas industry, most recently with National Oilwell Varco, Mr Bleymann will focus on promoting the product line across the company's bases in Europe and Africa, including the UK, Norway, Netherlands, Denmark, Angola, Nigeria and West Africa.
"We believe that OverVu can bring true value to our customers, particularly during this challenging time," says Nick Coaton, Track and Trace Solutions General Manager. "Athina and Daniel are key appointments in our strategy to grow the product line and develop our customer base and we are delighted to welcome them to the team."