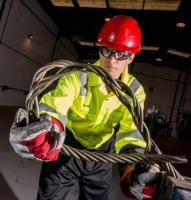 The global launch of a significant new product line will be the key topic for discussion when Swire Oilfield Services brings its international team to AOG 2014 in Perth from February 19 to 21.
A number of senior executives from the UK and Singapore will travel to Perth to discuss current Australian growth plans and to launch the company's innovative Track and Trace solution, OverVuTM.
Swire Oilfield Services' Australasian General Manager, James Parsons, will be joined at AOG by the company's UK-based Chief Operating Officer, Richard Sell; the General Manager, Track & Trace Solutions, Nick Coaton; and Singapore-based Regional General Manager, Asia Pacific, Troy Brice, at the Perth Convention Exhibition Centre.