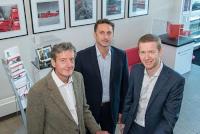 Swire Oilfield Services has welcomed its new CEO John Bruce (JB) Rae-Smith. He succeeds Tor Helgeland following his retirement in August 2016 after 22 years with the global company.
JB Rae-Smith has been an integral part of the Swire group since 1985 in a variety of roles, gaining significant experience in the offshore energy industry as Managing Director of Swire Pacific Offshore. Most recently, he was Director of Swire Pacific Ltd and Executive Director of the Trading & Industrial Division.
Based in Aberdeen, JB will join the company's Management Committee alongside Roy Shearer, Chief Financial Officer and Wayne Manning, Chief Business Development Officer to drive the company towards achieving its vision of being recognised as an essential part of upstream activity, adding unrivalled value to energy operations and logistics worldwide.
Commenting on his new role, Rae-Smith says, "I'm delighted to be joining Swire Oilfield Services, I wish Tor all the best in his retirement and look forward to continuing to build upon the successes that he achieved in his time as CEO.
"With the largest fleet size and global footprint in the market, Swire Oilfield Services plays a critical role in facilitating the safe transportation and storage of equipment and materials offshore from its bases across Europe, Africa, Asia Pacific and the Americas."
"Although industry conditions have been tough over the last two years, the company has continued to strengthen its position by collaborating with customers and providing innovative solutions. Introducing new technologies such as OverVu®, which provides increased visibility along the supply chain, has provided customers with much needed efficiencies and cost savings. The company has built up a strong team over the last 37 years and it is my aim to support them going forward to ensure that we continue to set the benchmark in the industry and deliver the value that our customers rely upon to keep their operations moving," adds Rae-Smith.