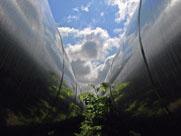 Following the merger of DNV and GL, one leading pipeline integrity software solution will now incorporate both previous brands, DNV's Synergi Pipeline and GL Noble Denton's Uptime. The single next-generation system will be branded under the Synergi Pipeline name.
Pipeline integrity software
As the focus on pipeline safety increases, stricter regulations demand better solutions for integrity management. In addition to full compliance, operators see the benefits of software systems that improve performance, optimize maintenance, increase availability of their gas, liquid and slurry pipelines and extend the lifetime of ageing assets.