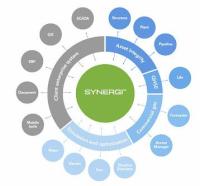 Synergi Plant version 5.2, the latest DNV GL plant integrity software solution, has now been released. It includes a brand new user interface and several new modules including a flexible and powerful KPI and graphics dashboard.
Transparency of asset integrity
"The industry is looking for transparency of asset integrity conditions. With the new Synergi Plant dashboard this has become reality," says Tommy Tang, Product Manager Plant Integrity Software at DNV GL. "Our brand new dashboard gives unprecedented flexibility and makes Synergi Plant unique in the market. It allows you to build KPIs, data grids, graphics and activity status. You can have individually tailored views, where you can monitor and track your asset integrity status and see the big picture. The dashboard provides a clear and direct way to make integrity management success visible to all of your stakeholders," he says.
"In today's market, with focus on reducing operational expenditures, asset integrity is extremely important. Unplanned downtime, maintenance and repairs are driving up costs and reducing revenue – an unsustainable combination. With the new Synergi Plant dashboard our customers have the integrity status of their assets at their fingertips. Operators and managers can act on anomalies before they develop further and become unwanted events," says Are Føllesdal Tjønn, DNV GL – Software Managing Director.