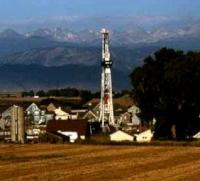 Synergy Resources Corporation has hired James P. Henderson as Executive Vice President Finance and Chief Financial Officer. Mr. Henderson is the former CFO of Kodiak Oil and Gas Corp. and he brings over twenty five years of oil and gas industry financial reporting and management experience to the Company. Prior to Mr. Henderson's time at Kodiak, he spent 17 years at Western Gas Resources and its successor, Anadarko Petroleum Corp.
He holds a Bachelor's degree in Accounting from Texas Tech University and a Master of Business Administration degree from Regis University in Denver.
Lynn Peterson, President of Synergy Resources, commented, "I am very pleased to have Jimmy Henderson join the team at Synergy. His experience will be instrumental as we prepare to grow the company and its asset base in the DJ Basin. We would like to take this opportunity to thank Monty Jennings who has been CFO of Synergy since the company's inception in 2008. Monty will remain a key member of the executive team as Chief Accounting Officer for Synergy."