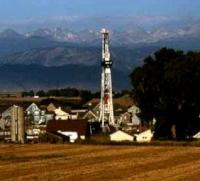 Synergy Resources Corporation provides initial production results for five wells on its Renfroe pad in the Wattenberg Field.
The first four wells were placed into production while flowing up 7 inch casing. Final completion was achieved with the installation of production tubing on all five wells.
The fifth well on this pad, the Renfroe C-1-36HNZ, had a continuous 24 hour initial production rate of 784 BOEs while flowing up 2 3/8 inch production tubing.
The production mix on all five wells consisted of 77% crude oil, 8% NGLs and 15% natural gas. The company estimates the final total well cost will be under $4 million per well. The following table presents "before and after tubing installation" production rates and days on production for each specific well, expressed as barrels of oil equivalent per day (BOED):