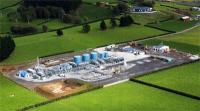 East West Petroleum Corp. says that the Cheal-G1 well on the Cheal South permit has completed its scheduled 11-day flow test.
Approximately 1,020 boe (94% oil) was produced during the test. Over the last 5 days of the test, the well averaged 127 boepd (93% oil) of steady production utilizing a jet pump artificial lift system.
The well is now shut in and undergoing temperature and pressure analysis. The joint venture partners are continuing to review the prospectivity of the area accessible from the Cheal G-site to identify further drilling targets.