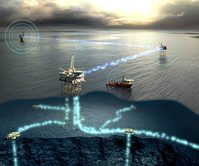 Marlink has introduced a significant connectivity boost for its Gulf of Mexico customers with the addition of Tampnet's cutting-edge 4G LTE services to its high-speed Sealink multi-band network. Offshore support vessels and ships can order Tampnet 4G connectivity fully integrated with the Marlink network as SmartConnect, augmenting the already available VSAT, L-band satcom and Wi-Fi services Marlink provides to oil & gas and merchant marine operators in the region.
The new influx of low-latency bandwidth to the Sealink network in the Gulf of Mexico comes at a time when some workboats and offshore vessels are being re-activated for duty, so installation of the compact and low-cost hardware needed on board can be included as stacked vessels return to operation with their Marlink multi-band services back online. Likewise, the system is very simple and low-cost to install on vessels already operating in the Gulf.
Marlink's decision to deploy Tampnet 4G LTE in the Gulf of Mexico follows its successful integration with the Sealink network in the North Sea in 2016, which provided customers with improved redundancy for operational continuity in all conditions, in addition to a new low-latency link ideally suited for real-time communication. Marlink's Norwegian customer Simon Møkster, an early adopter of Tampnet 4G LTE in the North Sea found that the service provided a stable and secure foundation to enhance its use of Skype for Business, which it was already using for daily operations across its fleet of advanced offshore support vessels.
"Tampnet 4G LTE augmented the Sealink high bandwidth VSAT, L-band and terrestrial 3G/4G we have on board all vessels in our fleet by giving us a very low-latency which is improving business critical applications, in addition to other use such as telephony, video conferencing, instant messaging and data sharing on Skype for Business," says Terje Gjerde, ICT Manager at Simon Møkster. "Sealink services with Tampnet contribute to our ability to operate more effectively through greater collaboration and the use of digital, data focused applications, enabling us to provide even more value for our charter clients."
"Tampnet 4G LTE has been tried and tested in the North Sea and the Gulf of Mexico with focus on fixed installations, but by integrating it with our Sealink network we are making communications even more flexible to support the safety and operational efficiency of mobile assets like offshore support vessels," says Tore Morten Olsen, President Maritime, Marlink. "Tampnet serves to strengthen Marlink's already extensive capacity dedicated to offshore operations in the Gulf, helping to ensure that operators seeking an edge by using digital applications can be confident in an always available and cost-effective link to the Internet."
Tampnet 4G LTE services as part of Marlink's multi-band service portfolio are now ready for customers operating in the Gulf of Mexico available from Marlink Houston. Also situated in Houston is Marlink Group navigation and communications service company, Telemar USA offering sales, service and maintenance on bridge electronics through its extensive service network.