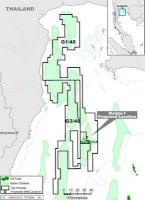 Tap Oil Limited provides the following update on the Malida-1 exploration well in the Northern Gulf of Thailand. Malida-1 is a commitment well in G1/48.
Location/Proposed Depth The Malida-1 exploration well is located in the G1/48 concession in the Gulf of Thailand approximately 5 kilometres northeast of the Manora oil development. Mubadala Petroleum is the operator of G1/48.
The well will test for the development of the main Miocene age interval of the Manora oil bearing sands in an independent fault dependent structure, east of the Manora field and further into the basin. Success at Malida-1 could open up a new oil fairway. Contingent well operations (including deepening Malida-1 to test the underlying Oligocene section and possible side-tracking) may be undertaken in the event of success at Malida-1.