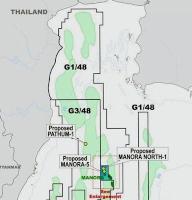 Tap Oil Limited provides the following update on the Manora Oil Development in the Northern Gulf of Thailand (TAP 30% interest).
Mubadala Petroleum, Operator of the Manora Oil Development joint venture, has advised the first three development wells - MNA-01, MNA-02 and MNA-03 - have now been completed.
It is now expected that production will commence from all three wells, resulting in a higher initial rate than forecast with two wells. Completion on MNA-05 has now commenced.
Platform commissioning at Manora is well underway with hook up and commissioning nearing completion. Mubadala Petroleum has advised production is now expected to commence by mid- November.