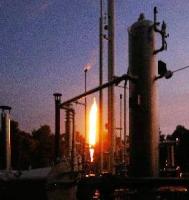 US-focussed oil and gas producer Target Energy Limited provide an update on its Fairway Project in West Texas.
Wagga Wagga #1 (Final Report)
Wagga Wagga #1 has reached Total Depth at 3,057m (10,030 ft). Wireline logs have been run and production casing set and cemented. The rig has been released.
Darwin #3
Following the fracture stimulation program over the Lower Wolfberry section at Darwin #3, the well is being flowed back. Approximately 30% of the load-water (12,900 barrels were used during the stimulation process) has now been recovered with an increasing oil-cut.
Target Managing Director Laurence Roe commented on the drilling, "Wagga Wagga #1 encountered good oil and gas shows in the lower Wolfberry section and a preliminary log analysis confirms potential pay there along with potentially productive zones in the Fusselman and Ellenburger formations.