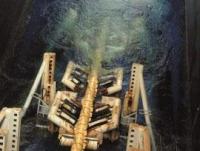 Tata Steel has announced a multi-million pound contract with KOGAS (Korea Gas Corporation) for the manufacture and supply of pipe in the Middle East.
The deal, between KOGAS and Tata Steel's Energy and Power division has seen the company manufacture 110km of line pipe and coatings for the Kirkuk to Baiji Dry Gas Project in Iraq.
A total of c.10,000 tonnes of line pipe was manufactured and coated at the company's 42 inch Mill in Hartlepool and has now been shipped to Iraq for installation.
The pipe, which measures 16 inches in diameter is designed and manufactured specifically for the transportation of dry gas.
Carol Hughes, business development manager, Energy and Power for Tata Steel said: "The contract with KOGAS is our largest ever in Iraq and indicates the current opportunities that are in the marketplace. Large-scale oil and gas projects, particularly brownfield, are beginning to receive significant investment in the country and our large presence in the region means we are well placed to capitalise on the increased activity."