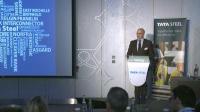 Tata Steel has celebrated the supply of one million tonnes of pipeline for oil and gas projects in the North Sea.
Henrik Adam, chief commercial officer of Tata Steel in Europe, gave the opening address at a special event in Aberdeen, UK, in which he highlighted the company's key achievements in the North Sea – including 88 projects completed in conjunction with 28 customers.
The event included presentations from Tata Steel representatives and guest speakers – including Subsea 7, Wood Group Kenny and Shell UK – who examined the challenges facing North Sea operators.
Richard Broughton, commercial manager of Tata Steel exploration and production, said: "Tata Steel has been providing solutions to the North Sea market for more than 21 years, culminating in one million tonnes and four million metres of welded pipe. In excess of half a million metres has been installed using reel lay construction methods. Over this period we are also proud to have invested over a quarter of a billion pounds in subcontracts for North Sea projects."