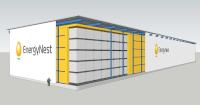 As part of its global footprint, Tata Steel operates various production facilities in IJmuiden/the Netherlands. During some production processes, intermittent high temperature exhausts are currently not utilized, but released to atmosphere.
In order to use its energy most environmentally friendly, one IJmuiden facility now intends to utilise its exhaust gas energy from production to cover some of the own energy demand of the facility. This plan also includes the creation of an energy storage for internal batch production.
The EnergyNest technology can support Tata Steel achieving its carbon footprint reduction targets. Its novel Thermal Energy Storage (TES) allows to capture current waste heat and to make it accessible for later use, providing an economic benefit. This economic benefit relates mainly to savings in natural gas consumption, and consequently to CO2 emission reduction. The EnergyNest TES is easy to integrate and operate since it contains no moving parts – the complete solution for "energy-on-demand" will be developed together with Jord as plant engineering and EPC provider. Adopting this innovative technology, Tata Steel in IJmuiden will strengthen the facility's status as a technology frontrunner by increased utilization of resources.
EnergyNest has developed an entirely new type of energy storage in its Thermal Energy Storage (TES) solution with an efficiency rate of over 95%. The basis for this innovative storage technology is the special concrete HEATCRETE®, which can store large amounts of thermal energy over a long period of time with little heat loss (1% per day).