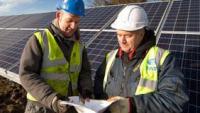 Against a backdrop of a growing solar energy market, robust renewable energy targets and the rising cost of conventional power sources, Tata Steel launches its solar ground mount system in the UK.
Tata Steel which already has over 50MW of experience within the solar sector, has developed a solar ground mount system using photo-voltaic cells to generate energy from solar radiation. The system, in its current version, has already been successfully installed in Cumbria, Sussex and the Isle of Wight.
The system, designed and manufactured by Tata Steel, targeted at engineering, procurement and construction (EPC) and utility companies as well as developers and planners, minimises the number of piles needed for installation, resulting in lower costs from the outset.
The innovative engineering of the system allows for greater tolerances and eases installation. In addition, Tata Steel's established project management capabilities will see the company provide project specific training to installers helping them gain experience in a controlled environment.
Further to this, each solar ground mount system is tailored to customers' specific requirements with factors such as location, weather and landscape analysed, determining the shape, size and layout of the system helping to maximise its durability in any given environment. Each application of the technology also comes with a performance guarantee for up to 25 years.
Saurish Basu, business development manager at Tata Steel said, "The development of a new tailored solar mount, which is durable, cost effective and reduces the risk of installation, is a natural extension of Tata Steel's comprehensive and established energy offering.