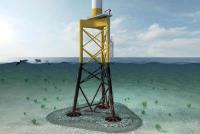 Tata Steel, in conjunction with German pipe manufacturer Eisenbau Krӓmer, has successfully completed delivery of 400 tonnes of 3D profiled and submerged arc welded (SAW) tubular steel to Bladt Industries which is being used for an innovative suction bucket foundation being trialled in the North Sea.
In a bid to reduce offshore wind energy costs by 40% by 2020, the three legged design utilises vacuum assisted technology to secure the structure to the seabed, reducing installation costs and the environmental noise impact of conventional steel piling.
With limited time before installation in August this year, profiled tubular assemblies have been delivered to the Aalborg facility of leading Danish fabricator Bladt Industries, enabling the company to swiftly manufacture the foundation jacket structure. The prototype jacket will sit alongside 77 standard turbines in the Borkum Riffgrun 1 windfarm, 37km off the Northwest German coast in the North Sea, with capacity to generate CO2 free power to over 280,000 households.
Tata Steel and Eisenbau Krӓmer have collaborated on developing products and services for offshore wind foundations since 2011. With this partnership and a quest for continuous improvement with Bladt Industries, the jacket has been designed and manufactured with a keen eye on cost. Sequenced delivery of welded tubular assemblies, by Tata Steel's renowned project management team, has saved time and costs.