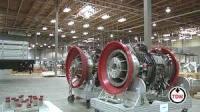 T.D. Williamson (TDW) says that Robert D. McGrew, previously TDW vice president and chief financial officer, has been elected by its board of directors to the position of president and chief executive officer. In this capacity, which became effective April 1, McGrew will be responsible for the operating performance and strategic direction of the company.
'I have worked closely with Bob since he joined the company, and I am certain that under his leadership TDW will continue to grow and thrive,' said Dick Williamson, TDW chairman of the board, in announcing the election. 'As a key member of the TDW executive management team, McGrew has been instrumental in charting and guiding the strong revenue growth the company has experienced during his tenure.'
A native of Ponca City, Oklahoma, McGrew, 52, holds a Bachelor of Science Degree in Accounting from Oklahoma State University and is a Certified Public Accountant. He joined TDW in 1999 as vice president and chief financial officer.