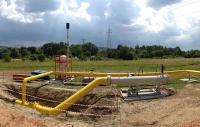 Keeping hundreds of miles of Poland's pipelines flowing at optimum capacity isn't easy. It's a demanding job, requiring great care and attention to planning and executing the rigorous maintenance programs necessary to ensure that every line is clean and free of defects, especially those that could eventually cripple production. A recent pipeline refurbishment program carried out by a major gas transmission operator in the mountains of eastern Poland, along the Ukraine border, illustrates the complex nature of maintaining pipelines.
In keeping with its commitment to maintaining the integrity of Poland's gas transmission system, the operator commissioned a comprehensive cleaning and inspection of a 28-inch diameter, 11 km (6.8 mi) section of a 40 km (24.8mi) pipeline, which was commissioned in the early 1970s. The pipeline, which is part of Poland's natural gas network, is particularly important because it can support an interconnector to and from the Ukraine.
Having partnered on many pipeline operations over the last 20 years, T.D. Williamson (TDW) was commissioned to execute the program, which was completed in August 2014. As a result of the complex pipeline cleaning, gauging and inline inspection (ILI) activities, the operator reaped a number of benefits, including increased product flow and enhanced pipeline integrity.