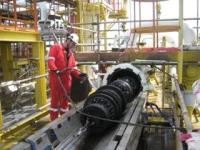 T.D. Williamson (TDW) recently completed a comprehensive pipeline services program for a major offshore operator to assist with efforts to relieve increasing contact stress between a gas export riser and platform jacket offshore East Malaysia.
Due to changes in seabed conditions, the platform jacket had moved, producing stress on the gas export riser attached to the platform jacket. The stress was most acute at the contact point between the bracings - or riser clamps - that anchor the riser to the platform structure.
Concerned that the amount of stress developing at the contact point could eventually damage the riser, the operator decided that the best solution was to cut out and remove a section of the jacket bracing. Removal of the brace would not affect the technical integrity of the structure.