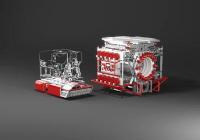 T.D. Williamson (TDW) announced the introduction of the Clamp Installation Tool (CIT), a new remote-controlled system that makes it possible to install any proprietary clamps or fittings on subsea pipelines in need of repair or to prepare for tie-ins to new pipelines.
The lightweight CIT is operated via remote control through a laptop by an experienced technician onboard a platform or a diving support vessel (DSV). As a result, operational safety is enhanced, and control over clamp installation operations is greatly improved.
Subsea hot tapping safer and more efficient with new CIT The introduction of the new CIT comes on the heels of the remote-controlled Subsea 1200RC Tapping Machine, which was launched by TDW in 2012 to offer a diverless solution to subsea hot tapping in depths of up to 3,000 meters (9,842 feet). Because the most critical part of the hot tapping process is the point at which the drill penetrates a live pipeline, TDW was keen to remove divers from the process and provide a remote-controlled diverless solution. The development of the CIT and the Subsea 1200RC Tapping Machine is the culmination of a concerted effort by TDW to provide a safer, more efficient method.