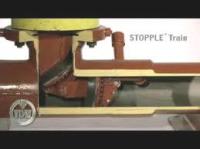 T.D. Williamson (TDW) has completed its first STOPPLE® Train pipeline intervention program in the Republic of Georgia.
The isolations were performed on a major export pipeline that transports crude oil through an 840 km (522 mile) section that extends from the Caspian Sea to the Black Sea. TDW was retained to isolate sections of the line to facilitate replacement of four pig trap isolation valves at two pressure reduction stations in the Georgian countryside.
The STOPPLE Train plugging system links two plugging heads into a "train," which provides the added assurance of a double seal and bleed port at each isolation point. The linked plugging heads are simply inserted into the pipeline through a single opening. By doing so, one hot tap and fitting produce a double seal with capability to bleed the annulus created between the seals, creating a safe zone in between, without having to insert two separate isolation tools.