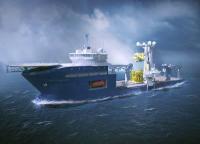 Technip was awarded by Statoil a substantial(1) contract for future intervention services on the Asgard Subsea Compression Stations. The award is a call-off of options under the Asgard Subsea Compression Marine Operations contract. Ranking among the largest developments on the Norwegian continental shelf, the Asgard field lies on the Halten Bank in the Norwegian Sea, about 200 kilometers off Norway. The Asgard subsea compression facility is the world's first project of its kind.
The awarded project corresponds to an extension of both the dedicated vessel and equipment, developed under the current Asgard Subsea Compression Marine Operations contract. The new contract will also cover the use of this vessel for other IMR(2) and construction work, whether for the Asgard field or for other licenses in Statoil's portfolio on the Norwegian continental shelf.
Technip's operating center in Stavanger, Norway, will manage the contract. Starting in 2015, after the completion of the initial installation of the subsea compression modules, it will be carried out within mid-2018. Amongst the most advanced construction vessels ever built, the North Sea Giant will be committed on a full time charter to Statoil under this contract. Besides, it will come complete with onboard Special Handling System (SHS), a purpose-built system for installation and recovery of heavy subsea compression modules (up to 400 Tons) in adverse sea states (wave height: Hs 4.5m).