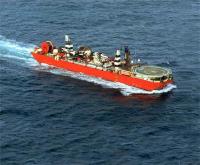 Technip was awarded by Deep Gulf Energy II LLC a lump sum contract for the development of the Kodiak field, located in Mississippi Canyon Blocks 727 and 771, in the Gulf of Mexico, at water depths ranging from 1,472 meters to 1,710 meters.
The project consists of a subsea tie-back to the Devils Tower Truss Spar located in Mississippi Canyon Block 773. To withstand Kodiak field's high temperature and pressure as well as extremely corrosive production fluids, the pipeline will be of a bi-metallic construction, lined with corrosion resistant alloy(1). This solution effectively addresses the challenges of increasingly demanding operating conditions.
This contract covers: • project management, • fabrication(2) and installation of more than 12 kilometers of reeled bi-metallic flowline and riser, • installation of an 11-kilometer umbilical, associated terminations and flying leads, • pre-commissioning and testing for the rigid line, • crossings preparation along with pre-lay and post-lay survey.