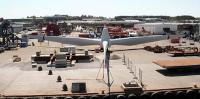 NorSea Group AS (NSG) has signed a renewed framework agreement concerning the delivery of base and port services to Technip Norge AS.
The framework agreement, originally entered into in 2009, has now been extended until the end of 2018, with an option of 2 x 1 years. The services covered by the agreement include various base and logistics services and support in connection with maritime operations, waste management and technical work.
"Renewed faith from Technip Norge means a lot to NSG and we are proud to have been chosen again," says Kenneth Bjørholm, Director of Market and Business Development at NSG.
The agreement has an extensive scope and involves nine of the NSG companies along the Norwegian coast and in the United Kingdom. The work will be undertaken by NorSea AS, Stordbase AS, Coast Center Base AS, Vestbase AS, Helgelandsbase AS, Polarbase AS, Maritime Waste Management AS, Maritime Logistic Services AS and NorSea Group (UK) Ltd.
"It is crucial for us to win contracts like this one in what is a challenging time for the industry," Bjørholm continues. "We hope and believe that the new agreement will help contribute to safeguarding numerous jobs in the years ahead."