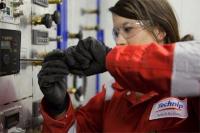 Technip will mark National Women in Engineering Day with an open evening at its UK headquarters in Westhill on Tuesday, June 23rd from 6pm-7.30pm.
Following the success of a similar event last year, Technip's UK operating centre is inviting young women interested in a career in engineering to come along to find out more about the industry and Technip's work in the subsea sector.
Attendees will have the opportunity to learn more about various engineering disciplines and will have a chance to speak with female engineers currently working within the oil and gas industry, learning first-hand about their career paths, roles and what attracted them to a career in engineering.
Guided tours of the technical workshops will also take place and advisers will provide information on the various routes into engineering, including the apprenticeship and graduate schemes that Technip currently offers. Representatives from different educational institutes will also be in attendance during the event.