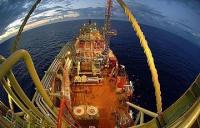 Petrobras' Director for Exploration and Production, José Formigli, stressed the importance of developing offshore technology and the ability to manage risk in large projects that, in his view, should not only focus on exploration, but mainly on production. The aim is to reduce the 'time to first oil' and the total cost to extract offshore oil and gas.
"It is important to have access to reserves, technology and the adequate mechanisms to manage production to be competitive" said the Director during the Offshore Technology Conference (OTC Brazil 2013) on Wednesday Oct 30, in Rio de Janeiro.
During the panel session "Perspectives on E&P in the South Atlantic" Formigli analyzed the history of the pre-salt geological formation off the Brazilian coast, which started about 124 million years ago, when the American and African continents separated.
From experience in the pre-salt Santos Basin and the geological similarity with the west coast of Africa, Petrobras studies potential areas in Angola, Nigeria, Gabon, Namibia and Benin on the other side of the Atlantic.
The company now produces 30,000 barrels of oil per day in Nigeria and Angola, and the results of work on the African coast also helps understand how to read the geology of the Brazilian equatorial margin.