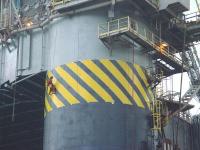 Challenges faced by the oil and gas offshore maintenance sector are being overcome following a breakthrough in technology.
Acrolon 1850 is a non-isocyanate high build finish coat for exterior exposed surfaces from Sherwin-Williams Protective & Marine Coatings Europe, Middle East and Africa (EMEA).
This sector provides a range of maintenance challenges for the coating industry such as safety colours which are used to coat offshore assets but typically give very poor opacity and coverage.
Yellow and red coatings have previously contained lead-based pigments which were cheap and offered good coverage. However because of the health & safety concerns with lead, organic pigments are now used which can be expensive with poor opacity, and numerous coats are often required to provide complete obliteration of the undercoat.