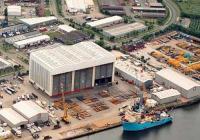 The North East's manufacturer and global supplier of fire, blast and heat protection systems has implemented its ambitious plans to introduce a new business arm which will significantly enhance its delivery of full turnkey modular solutions and enable clients to save considerable time and money.
Darlington based Mech-Tool Engineering Ltd – which recently reported an annual turnover of GBP 35 million – is set to launch its HVAC Solutions business early in 2017, an addition which will further enhance the company's already extensive offering.
Within the first 12 months of launching the new unit, the company will be creating at least eight new jobs looking to employ highly experienced manufacturing, construction and support staff.
Having carved an unprecedented reputation as a pioneer in developing, testing and revolutionising bespoke in-house engineering solutions to protect people and equipment against fire, blast and radiant heat hazard, the company already has three distinct business units; Design Consultancy, Fire and Blast and Modular Solutions.
Headed by Mech-Tool Engineering's Dr Keith Bell, the new business arm will mean the company has direct day to day control of design, manufacturing and testing of its HVAC projects ensuring key programme dates are achieved. The co-ordination of the entire process in house will also mean projects will continue to be delivered in a timely and efficient manner driving significant cost savings to clients.
Speaking about the launch, Keith says, "Previously Mech-Tool Engineering has expended a considerable amount of resources ensuring modular equipment complies with required specifications and is delivered on time. Having this highly-specialised function internally means that, not only will we have control of the full modular process end to end, we will also have increased capabilities to deliver on time and budget."
"We are continually looking to improve our offering and we believe this investment will not only help to facilitate the growth of the company, but will also create added value for our clients, whilst saving them time and money."
The company will now provide a full turnkey HVAC solution, which is essential in providing the optimum modular solution for the protection of specialist high value equipment.
The new business arm will be operated from the company's existing manufacturing facility based in Darlington, which is currently being refurbished to accommodate the new offering. The firm is also investing in new tooling, AHU manufacturing design systems and testing equipment.
Steve Oliver, Business Development Director at Mech-Tool Engineering says, "We are delighted to be introducing this new business unit. Our in-house design team already has extensive HVAC experience and as we look to increase operational efficiency and drive down costs for our client – the time is right for us to make this investment and add this offering to our already extensive capabilities."