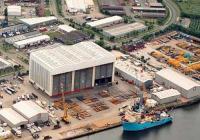 One of the UK's product designers, manufacturers and global suppliers of fire, blast and heat hazard protection solutions has been awarded a GBP 37 million contract to deliver a field operations office module and twenty remote instrument enclosure modules.
Mech-Tool Engineering Ltd – which has offices in the UK, Houston and the Middle East as well as manufacturing facilities in Korea – has been appointed by Wood Group, to provide a full turnkey service including design, manufacture and pre-commission of the modular units.
The delivery of Mech-Tool Engineering's modules will take place over a phased period from now until 2019. The project involves multiple disciplines with the system being integrated and designed to function at optimum performance in the extreme environmental conditions.
Already the new project has led to the company creating an additional 20 new jobs ranging from design engineers to welders and platers and the business estimates the contract will lead to further subcontract positions. With a keen focus on investment and improvement, Mech-Tool Engineering has recently secured a world leading quality standard – ISO 9001:2015 – only four months after the accreditation was first launched.
Speaking about the contract win Steve Oliver, Business Development Director at Mech-Tool Engineering says, "We are delighted to have excelled against international competition to secure this major contract – and as a result – provide additional job opportunities for the local community. We are also extremely proud of our world class, highly skilled workforce that have proven capabilities to ensure this project will be delivered to the highest possible standards."
The overall combined weight of the contracted modules is currently estimated to be circa 1760 tonne. All modules will be purpose built by Mech-Tool Engineering to the client's exacting specified explosion, seismic, thermal, fire and acoustic performance criteria. All components will be fully tested in-house using the most up to date equipment and testing procedures prior to deployment to ensure the highest standards are met.