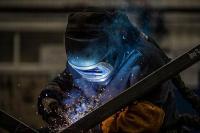 Teesside-based product manufacturer and global supplier of fire, blast and heat protection systems – Mech-Tool Engineering Limited (MTE Ltd) – will provide its on-site supervision and inspection services to facilitate the launch of the Hebron platform which is scheduled to produce first oil by the end of 2017.
And this comes on the back of the company successfully completing a multi-million dollar contract for the delivery from its UK and Korean sites.
The order – which has been designed, engineered, manufactured and supplied for the Hebron Project – a 52-well offshore oilfield development off the Canadian Coast– is a culmination of four years' work for the fire, blast and heat protection specialist which has seen more than 50 members of the MTE team working on sites both across Canada and South Korea.
The order involved MTE supplying a range of its specialist fire and blast protection products to the offshore development located off the province of Newfoundland and Labrador. These included duplex stainless steel fire and blast walls, blast relief walls, louvres, wind walls, fire doors and windows.
Speaking about the successful project delivery and next phase of the project, Anthony Jones, Divisional Director at MTE says, "The Hebron project has been a significant scheme for MTE and is very much a demonstration of the company's proven ability to deliver significant projects at scale with the technical capability to consistently do this on time and on budget. We have been providing in depth technical support from our offices in both the UK and Korea and the hook up of the project is now well underway which is an important milestone in the project. We have extensive experience in testing and inspection and we will ensure the highest standards are met."
The contract – which was awarded to Mech-Tool Engineering Limited in 2013 by Worley Parsons – is valued at approximately GBP 14.5 million and, it is expected that at peak, the Hebron oilfield will pump 150,000 barrels of oil per day from its 52 well slots.
The project is one of many multi million, high profile contracts currently being delivered by the Teesside business which will continue to support the mobilisation of Hebron by supervising, inspecting and project managing the on-site installation at the Hebron construction base located in Bull Arm, Canada.