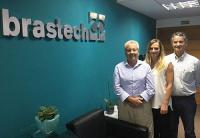 Tendeka, a provider of completions systems and services to the upstream oil and gas industry, has finalised an exclusive agreement with Brastech Serviços Téchnicos E Construçoes Náuticas LTDA (Brastech) as it expands within the South American market.
Founded in 1972, Brastech has represented Brazilian and overseas companies within the energy sector for 45 years. The company has played a crucial role in projects throughout Brazil, supplying equipment and services to many operators, including Petrobras.
Tendeka will work closely with the Brastech Well Services LTDA subsidiary. The partnership provides Tendeka with invaluable local knowledge to maximise opportunities within the country's oil and gas provinces. It provides Brastech with access to completion technologies.
While the agreement covers all Tendeka's product lines, the primary focus will be on Autonomous Inflow Control Device (AICD) technology and PulseEight Wireless Intelligent Completions.
Gillian King, Vice President Corporate Development & Market for Tendeka, says, "Expansion into new markets, like Brazil, is very much in line with our diversification and growth strategy. We look forward to working with Brastech to provide enhanced production and value to their clients."
Roberto Fernando Chedid, Executive Director for Brastech, says, "This relationship with Tendeka creates a new horizon for Brastech as we aim to expand our offering from the surface down to the wellbore. We are adding completions products to our existing subsea and marine products and services."