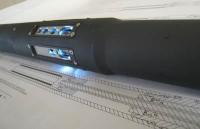 Tendeka has launched the SigNet Wireless Intelligent Completion solution to help operators maximise output from new and existing wells.
The launch of SigNet enhances the company's wireless offering with the introduction of an interval control valve (ICV) as well as downhole power generation capability, resulting in extended battery life. SigNet also retains the proven monitoring capability of Tendeka's Wireless PT Gauge. The SIGNET range of products will be on display at ATCE 2013, (Ernest N. Morial Convention Centre, New Orleans) in Hall D, booth 2619.
Commenting on the launch of the new product Ken Miller, Tendeka's VP for North and South America, said: "We have developed the SigNet Wireless Intelligence Completion Technology in response to market demand. The need to maximize production from new and complex reservoirs as well as increasing recovery rates from mature fields has led to an increase in the deployment of downhole monitoring and control systems.