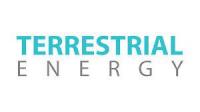 Terrestrial Energy has appointed James Cameron of the UK to its International Advisory Board. Mr. Cameron is a global expert on climate change mitigation and corporate sustainability. He has advised large corporations, heads of state, and sovereigns, on climate and sustainability matters.
This appointment reinforces the Company's core commitment to developing commercially-viable, sustainable, clean-energy technology that can rapidly drive global decarbonization of the primary energy system. Mr. Cameron is a thought leader in ecological issues, and he has embraced advanced nuclear technology as an essential part of the climate solution.
Mr. Cameron is the chairman of the Overseas Development Institute, UK's leading independent think tank on international development and humanitarian issues. He is also a member of HM Treasury's Infrastructure UK advisory council, a unit of the UK Treasury that works on the UK's long-term infrastructure priorities and secures private sector investment.