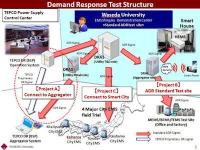 Waseda University and the Ministry of Economy, Trade and Industry (METI), have set up a new set of servers at their EMS Shinjuku Demonstration Center to handle DR signals over networks such as the internet.
This will contribute to development of communication standards which are crucial to expanding aggregator operations and linking electricity utilities, aggregators and consumers with Automated Demand Response (ADR) systems.
The servers are linked with the Japanese ADR standard, which was developed by the METI-led Smart House/Building Standardization and Business Promotion Study Group's Demand Response Task Force, and based on the OpenADR standard currently under development in the United States.
As part of the testing program, proving of the Japanese ADR standard has begun in cooperation with DR business between electric utilities and aggregators as well as the 4-Region (Yokohama City, Toyota City, Keihanna, Kitakyushu City) demonstration project.
In 2012 Waseda University's Research Institute for Advanced Network Technology (Director: Professor Yasuhiro Hayashi, Faculty of Science and Engineering) and the METI established the "Energy Management System (EMS) Shinjuku Demonstration Center" within Waseda University.
At this facility, as the first attempt of its kind in Japan, low-voltage equipment from a variety of different manufacturers can be linked together using telecommunications standards for optimal energy management and control, and their coordination with smart meters and demand response systems can be verified.