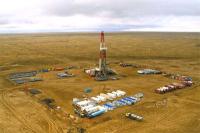 Tethys Petroleum Limited has agreed to appoint Bill Wells to the Board as a Non-Executive Director subject to and upon closing of the recently announced US$47.7million financing.
William P. Wells, 56, is President at Pope Asset Management, LLC, which is a 19.0% shareholder in the Company. Pope has committed to subscribe for a further 100,000,000 new ordinary shares as part of the previously announced US$47.7 million financing, which upon closing will take Pope's shareholding to approximately 26.6%. Mr Wells' appointment to the Board is also subject to obtaining the necessary clearances from the TSX.
Bill Wells is the founder and primary portfolio manager for Pope Asset Management. He had previously worked in the Private Wealth Management division of Goldman Sachs, where he was a vice-president working primarily with family groups throughout the southeastern United States. Bill had been at Goldman Sachs since his graduation from the Amos Tuck School of Business at Dartmouth College in 1985. Bill attended the University of Mississippi on a National Merit Scholarship and graduated with honors in 1980.