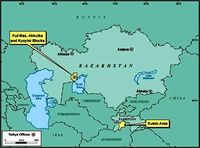 Tethys Petroleum Limited has entered into a definitive agreement for the sale of 50% of its Kazakh oil & gas assets to SinoHan Oil and Gas Investment B.V. (SinoHan), part of HanHong, a Beijing, PRC based private equity fund.
Terms Highlights:
-- Tethys will receive an initial payment of USD 75 million for this sale.
-- Additional performance bonus payments will be made to Tethys for the incremental discovery of 2P reserves achieved from the 2013 and 2014 drilling program, and also in profit sharing of excess profit at any exit by SinoHan from the project.
-- SinoHan will acquire a 50% + 1 share in Tethys Kazakhstan SPRL ("TK SPRL"), the wholly owned subsidiary of Tethys which holds the Kazakh assets.
-- Tethys will remain as the operator of the Kazakh assets with both partners having equal board representation in TK SPRL.
-- The sale achieves the following:
-- USD 75 million cash injection into Tethys, with the potential for future bonuses
--  Maintain 50% holding in producing asset with significant upside 
--  Fund more extensive and accelerated work program in Kazakhstan 
--  Strategic investor with access to capital and strong Chinese networks in the resource sector 

-- The sale is subject to Kazakh State approvals, including the waiver on pre - emption (Article 36). Closing will take place once these approvals are received.