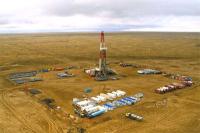 Tethys Petroleum Limited says that following the closure of the Guernsey Office, Denise Lay's employment with Tethys in her position as CFO has ended by reason of redundancy after six years with the Company.
Denise was offered the chance to continue in her role as CFO based outside of Guernsey but due to her personal circumstances she was unable to relocate as would have been required. Denise has been working with the Company to manage a smooth transition and closure of the Guernsey Office. The Company is grateful to Denise for her hard work over the years and she will be missed by colleagues.
Clive Oliver has taken on responsibility for the finance function as acting CFO. Previously Clive was Vice-President Finance and has been with the Company for two years. Clive will continue in his role as Corporate Secretary.