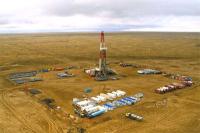 Tethys Petroleum Limited has signed and closed a binding agreement for a US$7.5 million convertible loan facility.
Key terms •Financing: Unsecured convertible loan facility •Principal: US$7.5 million •Term: 2 years •Interest rate: 9% p.a. •Conversion price: US$0.10 •Lender: AGR Energy Limited No. 1
John Bell, Executive Chairman, said,"We are very pleased to complete this financing which provides security and stability for the Company as we advance the strategic review that we are working on with Macquarie Capital."
The conversion price is at a 30% premium to the one-month VWAP of US$0.0765 (closing price on May 14th, 2015 was US$0.075).